Homecoming
With homecoming just around the corner, Student Council promises better music than previous years and an extravagant, memorable theme.
The date of the 2019 Homecoming dance is Saturday, Sept. 28. The homecoming dance is the opener for the school year, being the first major event. Each September, Student Council sponsors the homecoming dance to welcome all faces of Westerville South, both new and old.
"Spirit Week" is a week for students to represent themselves and their classes in a unique way, by dressing up according to a predetermined theme. The self-representation takes place the week of the homecoming game. The game is scheduled for Friday, Sept. 27 against Reynoldsburg.
In previous years, South students have complained about the music choices. Cassandra Coggburn, an English teacher and co-planner of the homecoming dance, is well aware of this issue.
 "People that complain about the music usually have one style that they really like … if it's not what they like, they think it's awful. But, that eliminates and excludes other people that may not like [their] type of music," Coggburn said.
Student Council always hires a professional DJ, Coggburn added, who "does a really good job at playing something that everyone will like. If you hear one or two songs that you love, you get up, you dance, but you probably won't hear every single song that you like because there are different types of people there and it's impossible to please everybody all the time." She also warns that students "may hear a few songs that they hate," but advises South students to "keep an open mind and have fun!"
Students are looking forward to the dance. "I highly recommend homecoming," Mia Orlandi, a junior who's been to every homecoming since her freshman year, said. "It's definitely fun because it's right after a game, so when we win the homecoming one, people feel more prideful of South. I also really like having the freshmen engage with the upperclassmen to get really united."
Orlandi is not the only one looking forward to the event. Freshman Samantha Spangler hasn't been to homecoming before, but is "really excited about the music." Spangler is "looking forward to seeing the upperclassmen and freshmen hang out."
The theme of this year's homecoming dance and Spirit Week is Candyland, based off of the widely popular board game and is mostly centering around the unique characters, like "King Kandy," "Grandma Nutt," and many more. 
Sophomore Tiara Takyi, a member of Student Council, said they came up with this year's theme after they finished last year's homecoming. Then, Student Council "had a brainstorming session."
Takyi recalled that "[Lauren] Sefton said, 'I have these giant gumdrops.' So the next time [Student Council] met, at around the end of the school year, I suggested the idea of Candyland. It's easy to carry out; it's something that will be fun, and this is our last homecoming in [the main] gym, so we thought that this dance should go out with a bang and have something cool like Candyland."
Takyi said that last year, Student Council "tried to change [the music variety], and people were satisfied. So, this year, we're going to carry out the same approach and have even better music." Orlandi noticed the change, stating that "it was definitely better than [the year before last]."
Not only is the dance unique, but there will be a different approach when it comes to Spirit Week compared to previous years. The complete idea cannot be revealed as of now, but Takyi promises that the student council has been "working really hard to make it a great one." She did, however, disclose that Spirit Week will be "entirely centered around representing Candyland … but it's not just about some candy, it's about the journey across the board."
One thing Takyi wants the students of Westerville South to know about homecoming is that "no matter the situation, there's always a chance to have fun and that's what homecoming is about. It's about making those memories in high school that you will cherish."
Homecoming tickets will go on sale starting Sept. 23. Ticket prices, just like they always have, will increase as the week of the dance goes on. Monday and Tuesday will cost you $10, but Wednesday through Friday will increase every day, going from $13 to $15.
About the Writer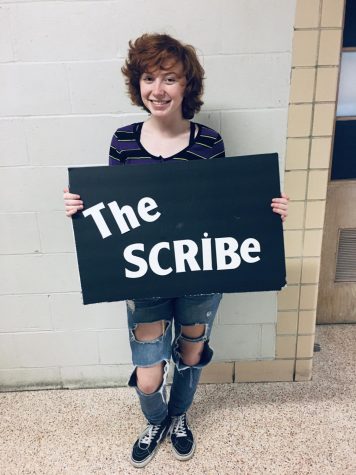 Rayeann Pauquette, Business Manager/ Reporter
Hi, I'm Rayeann! I'm a junior reporter, illustrator, and business manager for the Scribe, meaning I'm this generation's Kris Jenner.