Spring marks beginning of Senioritis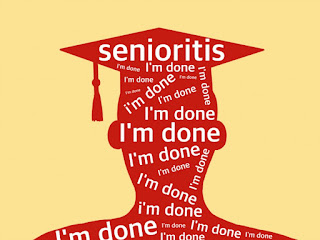 The clock has started to tick for seniors now that the third quarter has ended. The dreaded time of senioritis has come and teachers are starting to prepare. 
Senior Nic Ball said, " I think the worst time for senioritis is the end of March and the beginning of the fourth quarter. It's the hardest  because with spring break literally right around the corner, you know it's close to the end, so it becomes hard. I don't have senioritis right now, but it will probably develop. But,I think I can make it to the end of the school year."
The term "senioritis" is a common affliction describing the lack of motivation felt by students who are reaching the end of their courses. Although it's often used as a joke, Southern New Hampshire University (SNHU) academic advisor Abby Tincher said senioritis is a real thing people experience.
"I would describe it as seeing the finish line and realizing you don't necessarily have to work as hard anymore to reach it," Tincher said in the article " What is Senioritis And Is There A Cure". "The loss of momentum and motivation leaves students hoping they can float through to the end," Tincher explained
Most seniors aren't saying they have senioritis right now; but after spring break, it typically becomes a battle. 
Senior Sasha Dominguez said, "I don't have senioritis right now, but come April after spring break, I know I'll get it. I know I'll get it because I'll have nothing to look forward to except graduation."  
Yet, for some, senioritis has been an all year occurrence. English Teacher Bridget Schinker said, "… senioritis has been an all year thing for some of my students. I think it's because the last two years students really didn't have to do anything and now they do."
Senior Aiden Silva said, " I've had senioritis since last year. I'm honestly not going to stop having it now. I'll graduate with senioritis." 
Westerville South Counselor Laura Elliot suggested setting goals, staying healthy, rewarding yourself, and surrounding yourself with positive support to help combat senioritis.  
The side effect list for senioritis is mild to moderate cases of staring out the window, swollen ego, and homework fatigue. 
Senior Fin Jones said, "Low-key I've had senioritis all year, but it's really starting to set in now. I've experienced homework fatigue and short – term memory loss."
 Other side effects include inflammation of the whining gland, acute mediocrity, short-term memory loss, excessive tardiness, and classroom intolerance. 
Senior Camden Churchill said, "I first experienced senioritis during the 3rd quarter. I didn't have motivation to come and my work was slacking. As the end of the quarter came and my grades were bad, I really wanted to graduate. I ended up getting all my late work in and passing."  
 Elliott said, "The danger of senioritis is you may not graduate. Colleges can rescind admission when they see the final transcript if it has poor grades."  
When asked about his experience with senioritis and all its side effects, Senior Garrison Kidder said, "No comment." 
Senior Karson Lane also went along the route that the end of third-quarter into fourth is the hardest. Lane said, "You just lose motivation and you're ready to graduate."
Not all seniors will experience senioritis. Seniors Domminic Caldwell and Kat Stoll both said they trust themselves to make it through their senior year without getting senioritis. 
Then some seniors, like Senior Susan Firth said, "I don't have senioritis, but I have procrastinated a lot this year with work."