Wildcat Cheerleading given clearance to begin season
Morgan McCoy, Sports Editor and Social Media Manager
January 27, 2021
It is no secret that Wildcat athletes have had anything but a normal year. However, Wildcat Cheerleading has been impacted immensely during both football and basketball season. 
On a typical day, the cheerleaders do schoolwork from 9 a.m. until 3 p.m. or, whenever their schoolwork is done for the day. 
"Our coaches really have us understand the importance of school and make sure it comes first," Senior Cheerleader Jaden Gubernath said. 
After that, depending on the day, the cheerleaders attend practices or a game. According to WestervilleSouthAthletics.com, the Cheerleading schedule shows a game or practice almost every day. 
During the football season, there were only six regular-season games and three playoff games. However, due to quarantines and cancellations, Wildcat cheer was only allowed to be at three regular-season games and three playoff games during the 2020 season, much less than the typical 10 game season and occasional playoff appearances.
Gubernath, a second-year varsity Cheerleader and member of the WSHS Cheer Leadership Team, said that due to the circumstances, the team had to "make it [football season] the best we can." 
Basketball season is also very different this year. After many delays in the season, the season started nearly a month later than in the past and was then put on pause again. 
Once the team was cleared to begin practicing again, Wildcat cheer practices tumbling  on Monday's and whole-team practice on Wednesday nights, with games throughout the week. 
Due to rules set forth by the Ohio Capital Conference and the Westerville City Schools board, the cheerleaders are not permitted at away games this year. 
The cheerleaders are only given the opportunity to cheer at nine basketball games this year. Gubernath said that this change is "not as fulfilling and it feels like something is missing."
One change the cheerleaders have had to get used to is that they are required to be masked on the sidelines during basketball games; however, they were allowed to take them off during football games. 
Senior Cheerleader Rita Bragina, said she feels that the masks are "very distracting. I feel like I'm fixing my mask throughout the game, and not cheering as much."  Bragina added, "It also makes it harder for the crowd to hear us, so doing cheers where we need crowd involvement has been a lot harder." 
While the team understands that these rules are important to stay safe, they are also following rules given by Head Varsity Coach Lainey Wood in order to make sure that they will be able to have as full of a season as possible. 
Being a senior, Gubernath said that she realized she "took a lot of "normal" and past seasons for granted".
The cheerleaders have been cleared to practice and are "excited to show off their new cheers at home games this season," Gubernath said.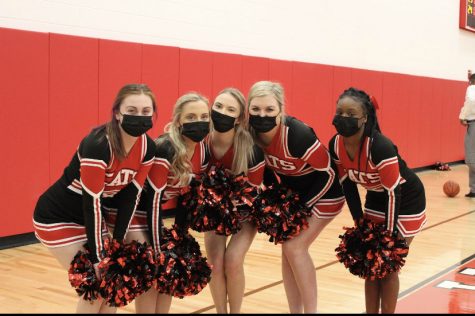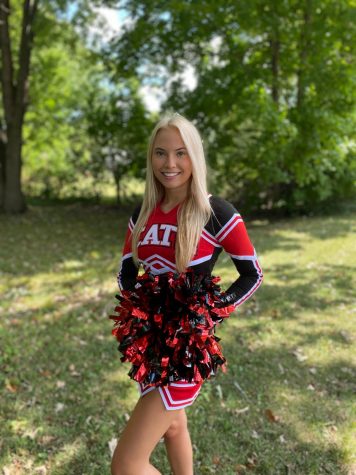 Limited ticketing has been yet another change due to the impact of the pandemic. In years past, Senior Night was a night where each Senior could have their family and friends in attendance
Each cheerleader is given four tickets for their immediate family only. "It's hard to not have extended family and my friends at my Senior Night. I've been looking forward to it for the past four years," Gubernath said. 
Bragina added, "It is definitely hard to not see all of my friends at games. And, without the student section, it just feels like something is missing. It's a totally different atmosphere without that."
For many sports, including cheer, the changes are not ideal, but athletes are willing to follow protocols in order to participate, even if it is much different than in the past. 
"It is definitely not the senior season I've ever imagined, but we are doing as much as possible to make it the best we can," said Bragina. 
About the Writer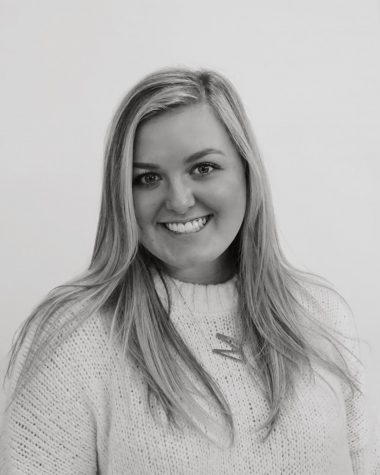 Morgan McCoy, Sports Editor
HI,I'm Morgan McCoy! I'm a senior varsity cheerleader for football and basketball. I'm the sports editor and social media manager for The Scribe.