Senior Sierra Ward is paving the path to her future career.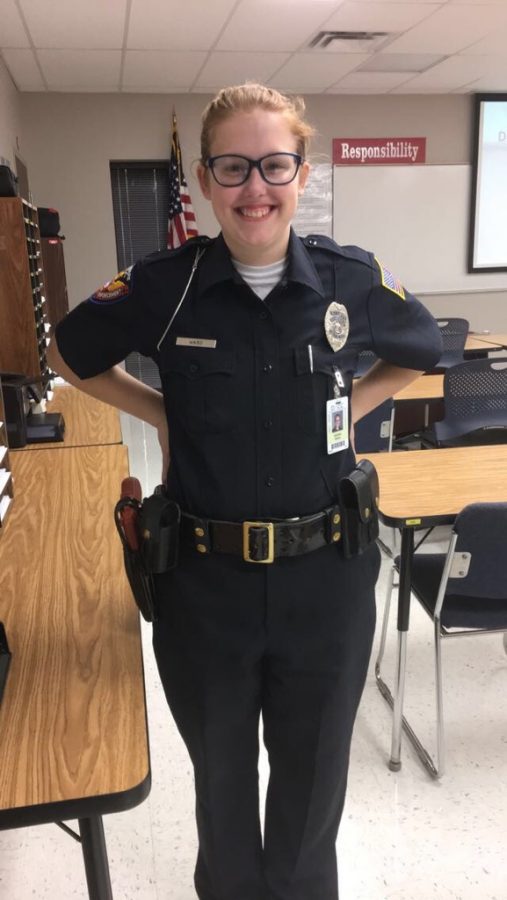 Lee Dildine, Reporter
May 17, 2019
Ward is enrolled at the Delaware Area Career Center (DACC) for law enforcement, a two-year program that would allow her to become a certified City Officer.
Education Connection, a website to help people study for careers, states that in order to become a police officer, you must be at least 21 years old, a US citizen, and be able to meet rigorous physical and personal qualifications.
Ward's commander, Jeff Hall, said she excels due to her positive attitude, which is her strongest asset. Hall, amongst other peers, chose Ward for a leadership role in the class because she gets along well with others.
As a leader she is in charge of making sure things run smoothly in the school and classroom. She is also an ambassador, promoting the career center as an option in student's scheduling.
Hall said, "[She] is a shining example of the right way to do things."
Hall also stated Ward had some emotional and physical hurdles to jump over in the beginning of the year, but showed her mental toughness and pushed through.
Ward said she loves the DACC because, "It is a fun and interactive learning environment; it gets me excited to learn about the class I chose."
Ward wanted to go to the DACC because she believes it will prepare her for the future, picking law enforcement for the discipline and the forensics. "The physical aspects were my biggest struggles because of my asthma," she said.
Her family supports her choice and pushed her to pursue it when she was hesitant about it.
Ward is the second oldest in her household, she has an older sister, a younger sister and a younger brother. Some might say she is a pet lover since she owns three cats, two dogs, and two birds.
Her greatest passion is reading. "I do it on the daily and I could get lost in a completely different world," Ward said.
After the DACC Ward plans on going to college, majoring in Forensic Science and minoring in Biology. She plans on becoming a Forensic Pathologist in the future.