Peebles' life story is no small stepping stone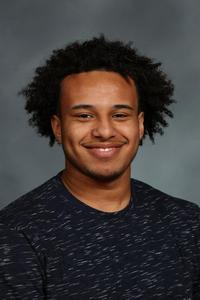 Mark Macharia, Reporter
May 17, 2019
Isaiah Lee Peebles goes by Isaiah, or Zay to a select few people,like his mom or close friends.
Born August 23, 2001 as Isaiah Lee Parish was born in Lima,Ohio. At a very young age, Peebles moved  to Columbus.
In his youth, Peebles was an only child who lived with his mother and grandmother. Then, at age 10, Peebles gained two younger siblings and a new stepfather.
Because of Kobe Bryant, Peebles grew up with a love for basketball and the Los Angeles Lakers.
Peebles' childhood sports also included football, which lead him to playing for Westerville South for his first two years in high school.
After his sophomore year Peebles decided to hang up his cleats to begin a job that would replace all his free time. For a year and a half, Peebles has worked at Champs, the shoe store.
Because of his love of the sneaker culture, this job suited him well. Peebles love for he sneaker culture grew from his father's passion for collecting all sorts of Air Jordans. From there Peebles has expanded his collection throughout high school.
He went from three pairs of sneakers to 20 in a span of four years. But, his favorite took some time to get. " Since middle school I fell in love with the gamma blue Jordan 11 and finally having them made me feel as if I accomplished something," he said.
Some of his favorite things to do in his spare time are playing video games,spending time with his friends, and watching movies.
Peebles' favorite movies are usually action movies, but the ones with humor like "Deadpool" are  his favorite.
Peebles has made some great relationships and memories with his peers. He values his time with friends; so most of the time if he's not at work or school, he is with his friends doing all sorts of activities.
Peebles has enjoyed South; his favorite class was physics. " I really loved physics and the main reason would've been the type of math that was used brought the best out of me," he said.
After graduation, Peebles wants to attend Columbus State and then transfer to Ohio State, where he wants to pursue a business degree.