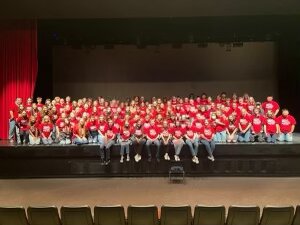 On Saturday Nov. 19, Westerville South students worked together to produce a humorous, horror themed Scho show.
With multiple senior directors, including theater and band students, Scho show is an original production produced and created by students. The very name is derived from the idea of providing scholarships to upcoming senior graduates in the theater program at South.
The amount of teamwork and effort by all the students involved makes this an impressive show, especially considering the creativity and organization involved to make the show run so smoothly.
The most accomplished, standout portion of the show was the dance choreography, with Senior Audrey Mylin directing that group of students. For the amount of dances there were, the moves were fairly complex with some dances even being a partner dance, which included tremendous amounts of teamwork from students who were given only a few weeks to learn choreography.  
The humor was also a key part of this show and a driving point in every acting scene. With the theme being horror, Scho Show took a "Scary Movie" approach, creating parodies of classic horror movie scenes. 
A standout scene that really made the whole show was during the parody of "Saw" where the cast was tied up and told the only choice of escape was to cut one of their legs off. Junior Reed Smith then takes off his prosthetic leg, using it to escape and knock out "Jigsaw".
Hilarious scenes like this really added to the atmosphere Scho show was trying to create.
Over $4,000 dollars was raised from raffle tickets and ticket sales, according to director Matthew Wolfe. Therefore, theatre Troupe 513 will be able to give three $1,000 dollar scholarships and two $500 dollar scholarships to theatre students. 
Theatre director Matthew Wolfe said, "… scholarships are so important for the graduating senior continuing their journey. It is also important because the seniors raise this money through their hard work and love of performance with their friends and classmates!"