Library Cafe: What to Expect
Westerville South's new additions have provided students with many colorful and open lounging areas. During the renovations, the library was reconstructed. Outside the library students can sit at modern  round tables with chairs. 
Westerville South's Principal Michael Hinze said, "When equipment arrives that's when it will be open." 
While the school is waiting for the opening of the library cafe, Westerville South's Librarian, Brandi Young said, "I believe the cafe opening and being next to the library will bring more attention to the library and its various happenings." 
Young wants the cafe to be a positive place for students and staff by bringing people together who don't normally hangout. It seems teachers and students want this to be a place to chill and relax during lunch. 
Hinze said, "It won't be as loud as the lunch room; it'll be a place to eat, study, and read." The food will be supplied from the cafeteria. The school will be providing coffee and other drinks.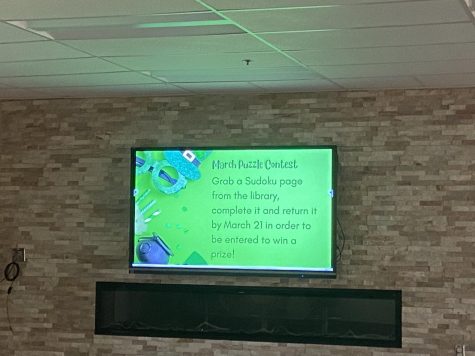 Young said, "I think the seating area usage is up to our administration. Ideally, it would be a spot for students to get their drinks and snacks and be able to take a respite, but with the time between our classes and lunches not being very long (the respite may be short-lived)." 
Westerville South's time between classes is short, meaning students wouldn't have sufficient time to get drinks and sit down.  Meanwhile, the library offers a variety of other things to do.
Young said, "I have a running slideshow that shows the different activities we are doing in the library that month so I think due to that, we will get more participation in our activities. For instance, for the month of March, we are having a St. Patrick's Day trivia contest and a sudoku contest. Come by the library to learn more!"