Engineering Students Print Passes
Hall passes may not be the first thing that comes to mind when considering the struggles teachers face. Teachers all throughout South have been struggling to come up with a good hall pass that is easily recognizable. 
Westerville South engineering teacher Jeff Owdom took charge in solving this problem. "I thought some teachers' hall passes were ridiculous and were struggling to come up with ideas," said Owdom. 
The hall pass's design is very simple. It consists of the South wildcat logo, the teacher's name and the room number of the teacher. The design was created from a project Owdom assigned to his students. The key point of the project was for students to communicate with their clients (teachers). 
Senior Ethan Rectanus helped with the designing process. "We had an assignment in Intro to Engineering to design at least two of them," said Rectanus.
The passes were made using the 3D printers that are available at South and with the help of Westerville Central's 3D printers. "Each design took about 1-1.5 hours to print, which brings it to a total of 3 hours since each teacher gets two passes," said Owdom.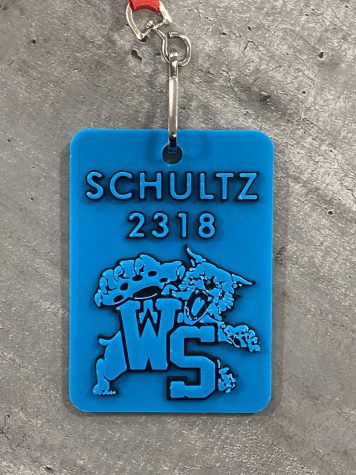 "The hardest part for us was the wait. Designing them was fun and relatively painless, however it took a while for each student to get to see their finished product," said Rectanus.
Students used PLA+ filament (plastic) to design the passes and administrators funded the project. Owdom decided to use this material because it was "sturdier" and "relatively good quality for its price." 
Using the engineering department's resources was a good way to help teachers. "I think it was a great idea to make them. It makes the hall pass situation more organized and uniform, and if a teacher loses a pass they can just ask for another one to be printed," said Rectanus.